About your Appointment
Prof Manish Patel

Urological Cancer & Robotic Surgeon
At The Urological Cancer Centre we put you at the heart of everything that we do. Our practice specialises in the management of urological cancers and you will find our staff are experienced, understanding and approachable.
Our team can provide all the information needed prior and post surgery. They can arrange any education, counselling and assistance to ensure you completely understand what is involved and how best you can prepare.
Seeing a specialist can be daunting and our caring and helpful team will support you on every step of your journey with us.
My First Visit
What to expect
During your initial visit the doctor will ask you some questions about your symptoms. Try and be specific and clear as this will help him to better understand your condition. He will explain the specific tests or procedures needed, help you understand the results and go over the risks. He may do a physical examination and ask you a bunch of questions. Once you have had the tests done, he will discuss the results and treatment options with you.
What to bring
Please arrive 10-15 minutes early for your first appointment so that you may complete patient information forms and a health questionnaire.
Please remember to bring the following with you to your appointment:
Referral letter from GP, family physician or other doctor
Medicare card, DVA card, Pension card
Have your private hospital insurance information with you
Copies of results, x-rays, MRI's, CT scans, blood test results and any other relevant information
If you need to cancel an appointment
Please telephone the office during business hours and allow at least 1 days' notice so that we can offer your appointment time to patients on our waiting list. We recognise that your time is valuable, and we make every effort to run on time. Occasionally emergencies or patients require a little more time, and these causes scheduling delays beyond our control. We apologise if we keep you waiting.
Please call us on (02) 9687 8252 for all appointments and enquiries or click here to request an appointment.
We are here to help, so please don't hesitate to contact us:
(02) 9687 8252
(02) 9687 0707

[javascript protected email address]
Prof Patel is available for consultation at the following locations:
Westmead Specialist Centre
Suite 17
Westmead Private Hospital
Corner of Mons Road & Darcy Road
Westmead NSW 2145
Click here for location map & directions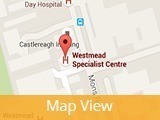 There is dedicated underground parking at Westmead Specialist Centre. To access enter the boom gates for Westmead Private Hospital located on Mons Road. Upon entering drive past Westmead Specialist Centre and turn right where there is an additional boom gate providing entry for parking at Westmead Specialist Centre.
Westmead Public Hospital (Crown Princess Mary Cancer Care Centre)
166 - 174 Hawkesbury Road Westmead NSW 2145
Click here for location map & directions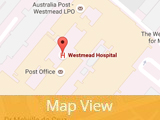 We recognise that parking is not a trivial issue for our cancer/haematology/palliative care patients and have spent a great deal of time and effort trying to address this difficult issue within the confines of available parking space.
Westmead Public Hospital's nearest train station is Westmead station. From the station the hospital is about a 15 minute walk.
To plan your trip and find the best route to the hospital please click here.
Macquarie University Clinic
Suite 304
2 Technology Place
Macquarie University NSW 2109
Click here for location map & directions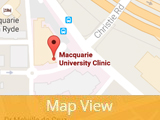 Parking is available in the secure basement car park under the hospital (off Research Park Drive). Parking charges apply.
The hospital is situated in the centre of the Macquarie Park technology hub, and conveniently placed near the new Macquarie University train station. The address is 3 Technology Place, Macquarie University, NSW 2109. The hospital is conveniently –
Located opposite the Macquarie Park Shopping Centre
Just 25 minutes drive from the Sydney CBD
40 minutes to Sydney airport
500 metre walk from the North Ryde Bus interchange.
Please note although our location is Macquarie University, if you are using a GPS you may need to enter the suburb as Macquarie Park or North Ryde.
Norwest
Suite 312, Q Central
10 Norbrik Drive
Bella Vista NSW 2153
(Across the street from Norwest Private Hospital – look for big Q on side of the building)
Click here for location map & directions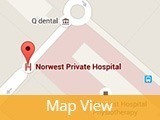 There is free parking available at the front and underneath the Q Central building and limited street parking nearby.